Many people dream to start a successful career with blogging. But very few of them become successful. Today I will share my knowledge about to turn blogging into a successful career.
Do you ever think how you can earn a handsome amount of money from blogging? In this article I will show you how to start blogging and how gradually you can turn it into a successful career.
Let's jump into the deep;
If you are very new in the blogging or don't have any experience about blogging, but your dream is become a successful blogger, then you are in the right place. Let's see how you can start blogging as a beginner:
Start blogging on the free blogging platforms.
Try to read blog posts.
Share your thoughts on the social platforms
Try to create author account on blogging websites.
Join freelance marketplace as a blogger.
Start Blogging on the Free Blogging Platforms
As a beginner, you should start blogging on the free blogging platforms. There are many blogging platforms who are offering free blogging opportunities such as:
Medium
Bloglovin
Bloggers
Tumblr
Wix
Weebly
WordPress
Reddit
All the above platforms are offering free blogging opportunities. Just signup for creating a free account. After creating your free account start sharing your knowledge, views, and thoughts. As a beginner just try to write the blogs as much as you can. Share your blog after publishing it on the social platforms such as Facebook, twitter, Pinterest, etc.
At the early stage you will not get readers. But don't be frustrated. When you regularly publish your blog post and share on the social platforms, you will gradually get visitors.
Here I want to share my experience. One year ago I don't have any followers on Pinterest. But now I have 500+ followers and now I get the maximum number of referral visitors from Pinterest.
Another example is Issuu. Six months ago I don't have a single reader in Issuu. But now I have 100+ reader in Issuu.
All the above blogging platforms have millions of readers. When you regularly update your blog post, your blogs will be more visible to the readers. They will gradually start reading your blogs and following you.
Read More Blogs
As a beginner in the blogging, you should read others' blog post regularly for improving your blogging experience and knowledge. You will get to know which niches are trendy and can capable to generate more income. It will also be helpful for increasing your writing skills and traffic engaging techniques.
Share Your Thoughts on Social Platforms
Social platforms such as Facebook, Instagram, Twitter, etc. are the best places for sharing your thoughts. As new blogger, you should post your thoughts regularly on the social platforms. It will help you to increase your writing skills as well as you will get followers from the social media.
Try to Create Author Account on the Blogging Websites
Many blogging websites offer author account to the bloggers. You should take this opportunity and create author account. When you will start writing on many websites, it will make your profile rich, it will create a lot of connections with the other bloggers, and the most important thing is; it will give you a lot of earning opportunity.
Join the Freelance Marketplace
There are many freelance marketplace where you can join and write as a ghost writer. The freelance marketplaces are good for getting job work for the new bloggers. You can earn money from the ghost writing service here. You will be more experienced from the freelance marketplace as well, that will be helpful for the blogging career.
The above points will help you to start blogging as a beginner. But without earning money you can't consider blogging as a career. Here I'm sharing some tips for you for earning money from blogging:
Guest blogging
Ghost writing
Outreach for the other companies
Product and services review
Affiliate commission
Guest Blogging
Guest blogging is one of the best way to earn money from blogging. You can earn monthly 5 digit from guest blogging. There are some websites, who are paying money for writing on their sites. Medium is one of the big names who are paying a good amount of money to the bloggers. Medium pays on the basis of the reading time and number of readers. In this way you can earn money from an article for the lifetime. On the other hand "Before it is news" also paying to the bloggers. They pay to the bloggers for one time for an article. Both the paying techniques are good for the new bloggers.
Ghost Writing
Ghost writing gives a good earning opportunity to the bloggers. It means, you will write for someone. The content will be published with his name. The traffic or visitors will know that he is the original content writer. You will just get paid from him. You will get this type of job work at the freelance marketplaces and can earn some money. When you become an expert blogger, then you can get the ghost writing job work outside from the marketplace and their rate is also much higher than the marketplace.
Outreach for the Other Companies
As you are a blogger and have many author account, you have an opportunity to work as outreach professional for other companies. In this technique, you will publish article to other websites. You will insert a link of the company you are working for into your article. You will be get paid for inserting this link. In this way you can work as a professional outreach campaigner.
Product or Service Review
Every commercial organizations need review of their products and services. You can write review articles for the companies and publish it to the blogs, where you are writing. Here you will get two way earning. One is for the review article from the company and another is for publishing the articles to the blogs.
Affiliate Commission
Affiliate commission is the best earning opportunity for a blogger. It is a passive income opportunity for you. After getting some experience you can should do affiliate marketing. It can't be a problem if you don't have your own website for doing affiliate marketing. You can insert your affiliate link into your guest blogging articles.
But, yes, if you have your own website, it is better for doing affiliate marketing. You can earn from AdSense also when you have your own website.
Affiliate commission and AdSense commission, both are passive income.
How I Turned My Career into Blogging
When I have started blogging that was my passion and hobby. I never think I will earn from it. I felt honored when people read my blogs or articles. This was my pleasure.
I have read many blogs where I found that people are earning from blogging in many ways. As I have another job and I am doing blogging only for my pleasure, I didn't feel interest to earn money from it. After few months of blogging experience, my first client Mr. Abir ping me for building links for him. I published his content on three different blogs and he paid me some money. Gradually many SEO professionals are contacting me for outreach job work. I accepted all of their work and earned some money. After few days I joined Fiverr marketplace. Though my primary income is coming from ghost writing and outreach work. In this way my blogging career was started.
Now I am doing outreach and ghost writing as a professional blogger and my earning is satisfactory to me.
End Words
You can also turn your blogging hobby into a successful career. It is not so difficult. Just you need passion and writing skills. If you have these skills, you will be also a successful blogger and can earn handsome amount of money.
FAQ
How can I become a skilled blogger?
More write and practice.
Which is the best place for free blogging practice?
You can use blogger or WordPress for free blogging practice.
Is there any earning opportunity when I am practicing and developing my blogging skill?
When you are doing free blogging practice at blogger or WordPress, you can turn it into a passive income channel using AdSense.
Related Articles
Summary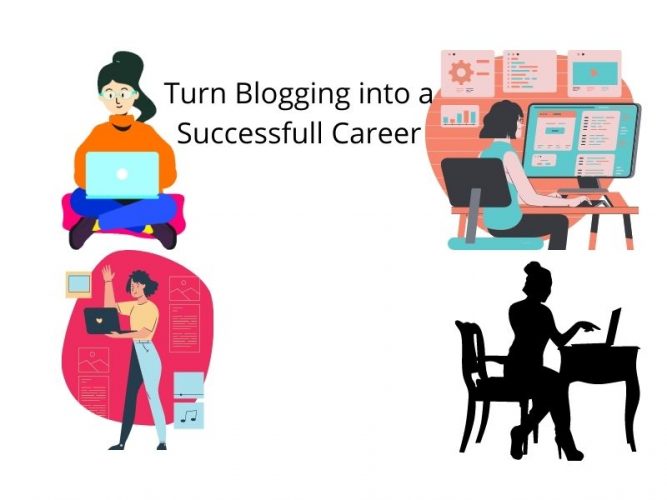 Article Name
10 Tips to Turn Blogging into a Successful Career
Description
Many people dream to start a successful career with blogging. But very few of them become successful. Today I will share my knowledge about to turn blogging into a successful career.
Author
Publisher Name
Publisher Logo